Jump to Section:
Each question links to a section on this page about Medicare Advantage;
Maybe you've heard some information about Medicare Advanatage Plans (Part C) from friends & family but what exactly is Medicare Advanatage anyway? How does Part C fit within Medicare Insurance benefits? We consolidated & simplified all the important details for you by answering common questions to help save you time, money & energy!
Feel lost in the Medicare Maze? For senior folks who want to make a good health decision but feel confused about thier options or not knowing who to trust, Bridge has a plan to help you find the protection and peace of mind you need. Contact us or take "The Medicare Journey", a clear path to understanding Medicare from "A Complete Health Plan Perspective". Don't let your health insurance end up costing you an arm and a leg!
Bridge is a licensed, insurance broker specializing in Medigap Plans, Fixed Annuities & Life Settlement insurance products.
Medicare Advantage 2020 Chart
Medicare Advanatage covers;
Part A – Hospital Insurance (Required)
Part B – Medical Insurance (Required)
Drug Coverage (Check Plan Details)
Supplemental Coverage (Check Plan Details)
Additional Benefits (ex: Gym Membership)
Get Quote
Connect with a real, dedicated & licensed, Bridge Insurance Agent for anything you need. We're here for you! Just ask.
What is a Medicare Advantage Plan?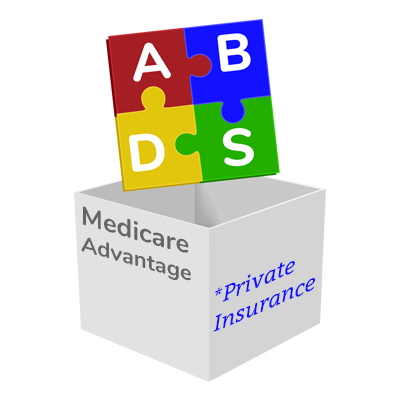 Medicare Advantage (MA) also known as; Part C, is one of two "package deals" seniors can choose from for their Medicare Insurance coverage. The other package being Original Medicare (Part A & Part B) coverage. Advantage Plans are run by private insurance corporations rather than the Federal Government. Anyone who enrolls in Medicare Advantage actually dis-enrolls from Medicare. MA Plans work like HMO/POO plans, similar to most employee health insurance plans managed within networks. Medicare Advantage plans are normally "all encompassing" because they cover the mandatory Medicare Parts A & B, and normally cover Prescription Drugs (Part D). Additional benefits may include; Dental, Vision, Hearing Insurance (DVH) and/or preventive health services like gym memberships. You can ONLY purchase an MA Plan from a AHIP Licensed Insurance Agent, Broker or Carrier. Lastly, Medicare Advantage is known for thier lower premiums, some having $0/premiums. But at the expense of what? Let's find out.
In summary of Medicare.gov's "14 things to know about Medicare Advantage Plans", here is a more concise rundown;
You're still in a Medicare Plan (backed by Medicare).
You have Medicare rights and protections.
You have both Medicare Part A & B.
MA plans typically have lower out-of-pocket costs.
You can only choose a plan during certain times of the year.
You can join an MA with pre-existing conditions except with kidney disease.
You can pre-check your plan for;
Follow your plan! Consider referrals for specialists. Contact the plan carrier.
Go to doctors, hospitals and health professional that are in-network to avoid additional costs.
Providers (doctors, hospitals, health providers) can choose to stay or leave in-network anytime so you may have to change to new providers.
You could save in service costs by joining a clinical study.
Advantage Plans can't charge above Original Medicare for particular services such as; chemotherapy, dialysis, and skilled nursing facility care.
IMPORTANT: MA plans have a yearly limit that can change. Once you hit this limit, any additional costs are covered by the plan. Plans have different limits.
If a plan in your area is discontinued, you will have to join another Medicare plan or return to Original Medicare.
What are the different types of Medicare Advantage Plans?
The different types of Medicare Advantage Plans include;
Health Maintenance Organization (HMO)
Plans Preferred Provider Organization (PPO) Plans
Private Fee-for-Service (PFFS) Plans
Special Needs Plans (SNPs)
Medical Savings Account plans (MSA)
Medicare Advantage Prescription Drug plans (MA-PD)
What are the stipulations of Medicare Advantage Plans?
Beside the mandatory requirements above, Medicare Advantage does have some stipulations to consider which include (some items are repeated from the list above);
You have to choose in-network doctors, health care providers & hospitals or you will probably pay full price. See what you pay for in a Medicare Advantage Plan.
You will probably need a referral to see a specialist (waiting periods).
These rules can change each year (historical rates show MA plans can fluctuate compared to Medigap Plans).
Normally have a higher plan deductible / out-of-pocket limit.
You could lose your employer or union coverage (for you, your spouse or Dependants if you join an MA Plan & possibly NOT get it back). Talk to your employer first as you may be able to use these benefits in conjunction with an MA plan (benefit).
You can change plans (including your MA-Prescription Drug Plan) ONLY 2 times a year during;

Open Enrollment (Oct 15th – Dec 7th)
Medicare Advantage Dis-enrollment Period (Jan 1st – Feb 14th).
Read more about: Medicare Enrollment Periods
Switching back to Original Medicare has stipulations;
If you chose a MA plan during your Initial Enrollment Period, you have a 12 months to switch back without having to pass health underwriting, called Guaranteed Issue (trial rights). Read your rights & protections!
You could be denied supplemental coverage depending on your health.
If you would like to switch to Original Medicare, contact your current plan, or contact 1-800-MEDICARE for more details.
How does Original Medicare compare with Medicare Advantage Plans?
Original Medicare may offer more comprehensive coverage when paired with a Medicare Supplement Plan & a Part D drug plan. Original Medicare gives you more control over costs and coverage flexibility whereas, Medicare Advantage can constrain certain freedoms. We go over this more in detail in the Original Medicare vs Medicare Advantage page. Comparing plans can be difficult going at it alone. That's why we at Bridge Insurance are here to help you find the right plan to fit your needs.
Although, Medicare Advantage Plans are appealing based on price, they can also come with a few Medicare pitfalls that may have you reconsider the real "advantage". For example;
Prices have been historically unstable.
Your coverage will change annually.
You could be locked-in without the future option for a Medigap Plan
You're responsible for out-of-network, Physician costs.
No coverage beyond your service area.
Must use in-network providers.
No travel coverage.
May need a referral to see a specialist.
"Medicare Advantage plans still have significant room for improvement in information and communication, coordination of care and cost controls." – According to J.D. Power (2018)
Additionally, If you have a MA plan & diagnosed with a critical illness such as cancer, heart attack or stroke, costs for treatment if the hospital is out-of-network may not be covered in your plan. The max out-of-pocket only applies to covered services and could require a specialist referral. People with MA plans, think they have more coverage than they actually do unlike Medigap plans, which is considered more comprehensive senior health coverage plan.
How do I know if Medicare Advantage is right for me?
Deciding if Medicare Advantage is right for you is a complicated answer because it can depend on many different factors including; your enrollment period, your health history, costs/needs analysis and what is available in your area. You also need to know what to compare it with, for example, Original Medicare paired with Medigap Plans. If you would like a speak with a friendly, Bridge Agent to help assist your Medicare needs, Contact Us for more information.
Additional FAQs
Open boxes below to see answers.
How is Medicare paid for?
Every employed or self-employed American pays for Medicare in the form of payroll taxes called the Federal Insurance Contributions Act (FICA). FICA Infographic.
In Conclusion
Medicare Advantage are private health insurance plans that represent 1 of 2 Medicare insurance options seniors can choose from. The private health plans work like HMO health plans because members must stay in-network. Over half of new Medicare enrollees are choosing Medicare Part C due to attractive, low-cost offers and perks. Enrolling in Part C should be looked at from a long term perspective, especially if you live on a fixed income. We found a few additional resources to show the historical price index and more recent spotlights on Medicare Advantage plans; 2019 Medicare Advantage Spotlight. If you want a deep dive more into Medicare Advantage check out, An Economic History of Medicare Part C or The Evolution of Private Plans in Medicare. If you still feel lost in the Medicare Maze, don't worry you're not alone! Bridge Insurance can help guide you to finding a Medicare Insurance Plan that is right for you. Contact us today to speak with a Medicare Specialist in your area. Before joining Medicare Advantage, get a 2nd opinion and read the fine print!
Page Sources
FL225 – Health & life (including annuities & variable contracts) Study Manual Florida 32nd Edition – 2017
Checkpoint
Medicare can be complex and confusing but we have good news! Bridge did all the research for you, so you don't have to! If you just started following along with us, you can visit The Medicare Journey trailhead to see the roadmap, go the first chapter on Social Security, or jump to the Next Page!