Warning
: Illegal string offset 'before' in
/home/customer/www/askbridge.com/public_html/wp-content/themes/Divi-child/functions.php
on line
20
Warning
: Illegal string offset 'after' in
/home/customer/www/askbridge.com/public_html/wp-content/themes/Divi-child/functions.php
on line
20
Warning
: Illegal string offset 'wrap' in
/home/customer/www/askbridge.com/public_html/wp-content/themes/Divi-child/functions.php
on line
20
Why redefine Medicare? At Bridge Insurance, we believe people need an alternative way to think about Medicare because it is overly complex, detached, and fraught with noise, misinformation and deceptive sales practices. We believe in transparency by delivering the clearest path to Medicare decision-making which culminated into what we call, "The Complete Health Plan Perspective". This perspective is a holistic, unbiased view on how to solve the Medicare puzzle and unlock savings for years to come. The premise is simple. Instead of centering you around the Parts that make up Medicare Insurance, we flip it and center the concept around you because after all, it's about you and your healthcare first. We hope this article will serve you well on The Medicare Journey.
Feel lost in the Medicare Maze? For senior folks who want to make a good health decision but feel confused about thier options or not knowing who to trust, Bridge has a plan to help you find the protection and peace of mind you need. Contact us or take "The Medicare Journey", a clear path to understanding Medicare from "A Complete Health Plan Perspective". Don't let your health insurance end up costing you an arm and a leg!
Bridge is a licensed, insurance broker specializing in Medigap Plans, Fixed Annuities & Life Settlement insurance products.
Connect with a real, dedicated & licensed, Bridge Insurance Agent for anything you need. We're here for you! Just ask.
The Medicare Insurance Parts
Quick overview (for clarity):
Recall from our previous page titled, Medicare Parts, when we provided the traditional list of Medicare Parts. Well, here it is again;
As much as we have been taught to follow the ABC's in alphabetical order, throw that concept out the window for now. Instead, let's reimagine this "traditional list" for a moment and redefine this list of Medicare options.
We Should Actually Think of Medicare Parts from of a "Complete Health Plan Perspective"
A complete health plan perspective is a holistic view of a health insurance plan which is not just a way of viewing Medicare health insurance but health insurance plans in general.
For now, we are focusing on Medicare. Let's take a top-down approach to the new, redefined list. We are only making one change to the traditional list. You will notice we replaced "Part C" with "Part S" from the list below. Every senior health insurance plan should include the following parts;
Part A (Hospital Insurance)
Part B (Medical Insurance)
Part D (Prescription Drug Coverage)
Part S (Supplemental Coverage)
Here is a visual:
*Notice: All we did was change out 'Part C' with 'Part S'.
Part S is not a standardized term and is only used for illustrative purposes because we think it better represents the main idea of both Medicare Insurance options (ie: Original Medicare & Medicare Advantage) from a "Complete Health Plan Perspective". Let's see how this affects both options.
"There are 2 main ways to get your Medicare coverage—Original Medicare (Part A and Part B) or a Medicare Advantage Plan (Part C). Some people get additional coverage, like Medicare Prescription Drug (Part D) coverage or Medicare Supplement Insurance (Medigap)." – Medicare.Gov
What are my Medicare Insurance Options?
Medicare Insurance works like two sides to one coin. Both sides can accomplish similar means yet both have their differences.
Now let's package this concept (literally). Here is a visual of what a complete health plan would look like;
To learn about Medicare Insurance, one should understand Medicare only offers recipients two (2) main "package deals" or "paths" or "options" to choose from. We have been using these terms interchangeably but moving forward we will refer to them as "packages" to match our illustrations. These Medicare packages are not in any particular hierarchy of best Medicare Plans but rather what pieces fit together. Note: We refrain from using the word "Plans" because we reserve that word for 'Medigap Plans' only. As mentioned in previous pages, "Parts" are not "Plans", by keeping these two concepts separate in your mind, you will more easily understand Medicare and avoid common language confusion later when we review Medicare Supplements. Here are the two package deals to choose from;
Think of Medicare Insurance Like Two (2) "Package Deals" to Choose From.
The two packages each contain the redefined "Parts" (A, B, D & S) as opposed to (A, B, C & D). The way the Medicare Insurance works is you can only choose one package (at a time) and switching packages has stipulations/limitations which we will cover shortly.
Here is a visual of the two (2) packages;
1. Original Medicare
Original Medicare is Government health insurance that consists of Part A & Part B only and cover approx. 80% of healthcare costs. While Part D & Medicare Supplement Plans are purchased separately from private insurance carriers.
Part A (Hospital Insurance)
Part B (Medical Insurance)
Add-On Parts  
Part D (Prescription Drug Coverage)
Part S (Additional Coverage)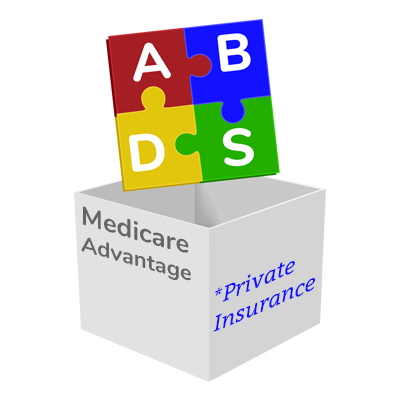 2. Medicare Advantage
Medicare Advantage (MA) is also called Part C is private insurance backed by Medicare regulation. MA plans are generally "all encompassing", similar to HMO/PPO's and usually include a drug plan (MA-PDP) & supplemental benefits. Plans vary but normally consists of;
Part A (Hospital Insurance)
Part B (Medical Insurance)
Part D (Prescription Drug Coverage)
Part S (Additional Coverage)
What is Medicare Part S?
As mentioned, Part S is used for illustrative purposes only (as this is not a real Medicare Part) but the concept is to better understand Medicare insurance options from a "Complete Health Plan Perspective". Part S stands for Supplemental and represents both additional benefits of Part C and the role of Medicare Supplements. Generally, supplemental coverage can include additional perks, benefits, and insurance plans some of the most common include;
Medigap Insurance (cover 20% remaining costs)
Silver Sneakers (Gym Memberships)
Discounts & other offers
Which Medicare options are the best choice?
Determining which Medicare options are right for you, depends on many factors to consider both short and long-term. The main determining factors would include price, availability, health status, type of issue and/or preference. You can also check out the page we wrote about Medicare vs Medicare Advantage or Medigap vs Medicare Advantage to get a general idea on the Medicare pros & cons. For more information, contact a Bridge Agent to discover health plan options near you!
How do I compare my Medicare options?
Comparing Medicare options online can be confusing and time-consuming when vetting multiple carriers, plans, rates, and availability. With Bridge, you can simplify the process by getting a comparison quote to fit your needs. Note: You must actually speak with an Insurance Agent when purchasing Medicare Insurance.
In Conclusion
We reviewed the "traditional list" of Medicare Parts. We then redefined that list from a "Complete Health Plan Perspective" by swapping out Part C with Part S which represents "supplemental" or "additional" coverage for both Medicare Insurance options (Original Medicare & Medicare Advantage). We then repackaged each deal and review ed their properties. We hope this article will be a helpful concept as you continue on The Medicare Journey
In the next section, we begin with Medicare Advantage Plans due to its all-encompassing properties.
We have a long journey ahead of us but by the end of our journey, you will have advanced knowledge of Medicare to make the most informed decision for your future health insurance.
Page Sources
FL225 – Health & life (including annuities & variable contracts) Study Manual Florida 32nd Edition – 2017
Checkpoint
Medicare can be complex and confusing but we have good news! Bridge did all the research for you, so you don't have to! If you just started following along with us, you can visit The Medicare Journey trailhead to see the roadmap, go the first chapter on Social Security, or jump to the Next Page!